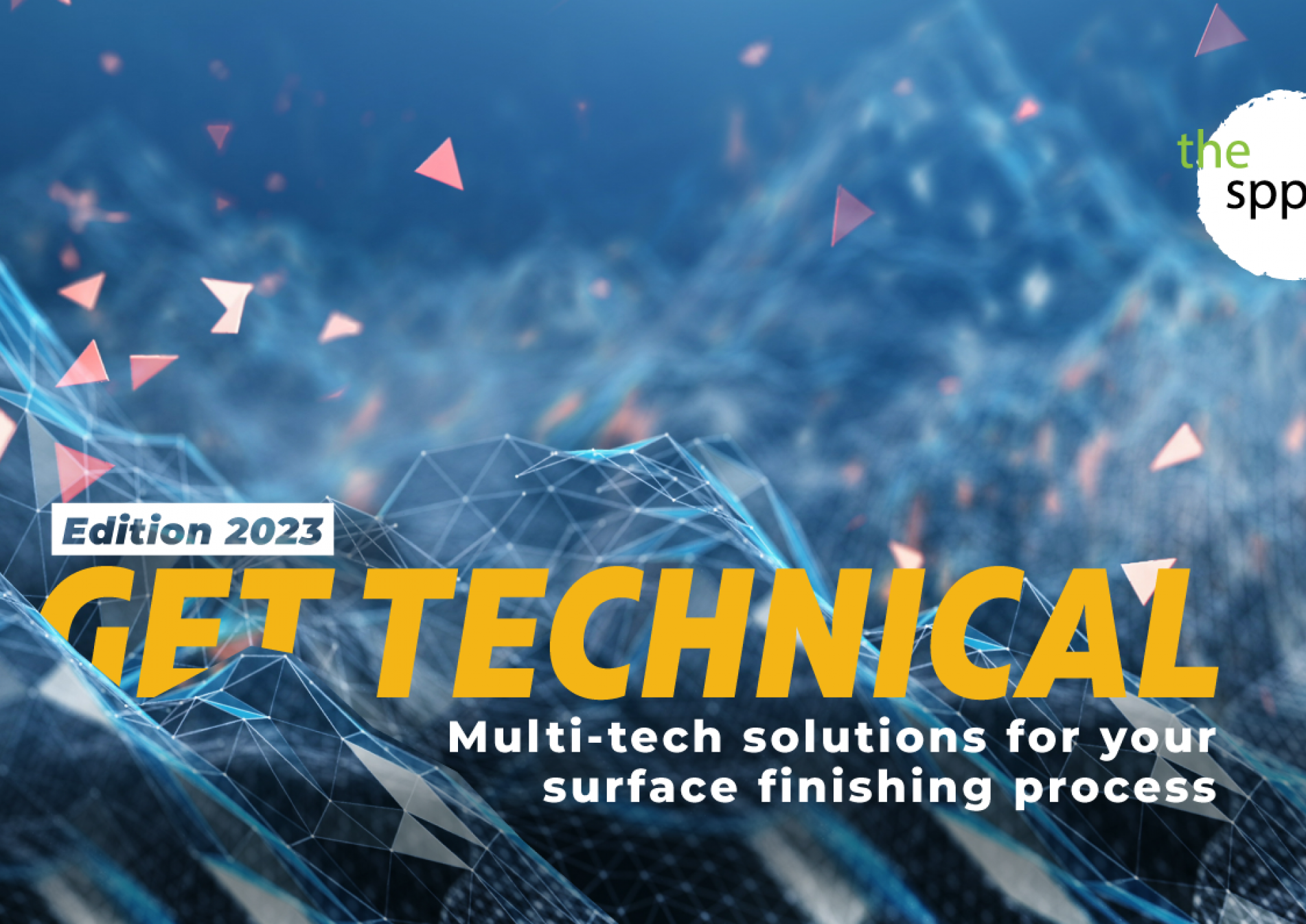 You are looking for the perfect surface finishing? Come and GET TECHNICAL 2023!
Tuesday, 19 September 2023
Company news
21st – 22nd of November, Turin Italy
This Autumn will be all about practical solutions and improving surface finishing processes marking the grand finale to this year's BIG3 events of the sppot – Get Technical, edition 2023.
Are yougetting troubles through your surface finishing process?
Do you want to have a deeper understanding of the latest surface finishing technologies?
Are you looking for additional reasons to bring back to Europe your production?
Register for GET TECHNICAL 2023
Two-days, free-of-charge, live event dedicated to technical expertise and innovations in the bicycle and sporting goods industry. Guests of the event will join an interactive and versatile conference followed by real-time demonstrations of a surface finishing process of frames and other bicycle components. Also, you will have the opportunity to participate in insightful discussions and build new valuable connections with other industry members.
Conference where industry leadersspeak out of experience.
At the Color Trend Days by Posterama in the Netherlands, in the spring of 2023 set ground for an open dialogue among bike and sporting goods industry for all the good reasons on reshoring. In our autumn event we keep the dialogue open, inviting you to a morning conference session. Noticeable representatives from the industry will share their hard-earned insights about sustainability and energy efficiency gained through years of experience in Europe. Experts from the production line will be there to discuss the quality standards and how to prevent troubleshooting within the production process.
Unveiling the surface finishing process in real-time.
The combination of various products from different global suppliers makes surface finishing a hard and complex process. At the sppot we bundled our know-how and the guests of the event will be able to witness it through real-time demonstration of surface finishing of a bike frame and some of the most common troubleshooting within the whole process. The host of the event Eurotherm Spa is setting up a brand-new demonstration area with powder and liquid coating booths, equipped with Lesta's robots, WAGNER's spray guns and manual application systems needed for surface finishing of a bike frame. Posterama will have a decaling workshop. Duthoowill have live demonstration of scratch repairments. Along with the process, visitors will have the opportunity to check the latest colors and shades of TIGER's powder coatings portfolio and Berlac's liquid coatings.
Individual approach.
Despite the explanation of the whole finishing process in details, the event will provide room for individual troubleshooting and one-to-one meetings with specialists from the sppot's ecosystem.
GET TECHNICAL 2023 will take place at Eurotherm's facilities in Turin, Italy. Both days of the event will cover the same topics and will follow the same program of conference and technical demonstrations. Visitors are free to choose between two options depending on their language preferences:
21st of November – program in English;
22nd of November – program in Italian.
Free event - by invitation, registration and confirmation only.
Program:
10.00 – 12.30 – Conference
Lunch
14.00 – 17.30 – Technical demonstrations & workshops
Powder coating process with robot and manual application system.
Decaling workshop
Liquid coating process with a robot
Repair system demonstrations
Networking dinner
Registerand GET TECHNICAL with multi-tech solutions for your surface finishing process.