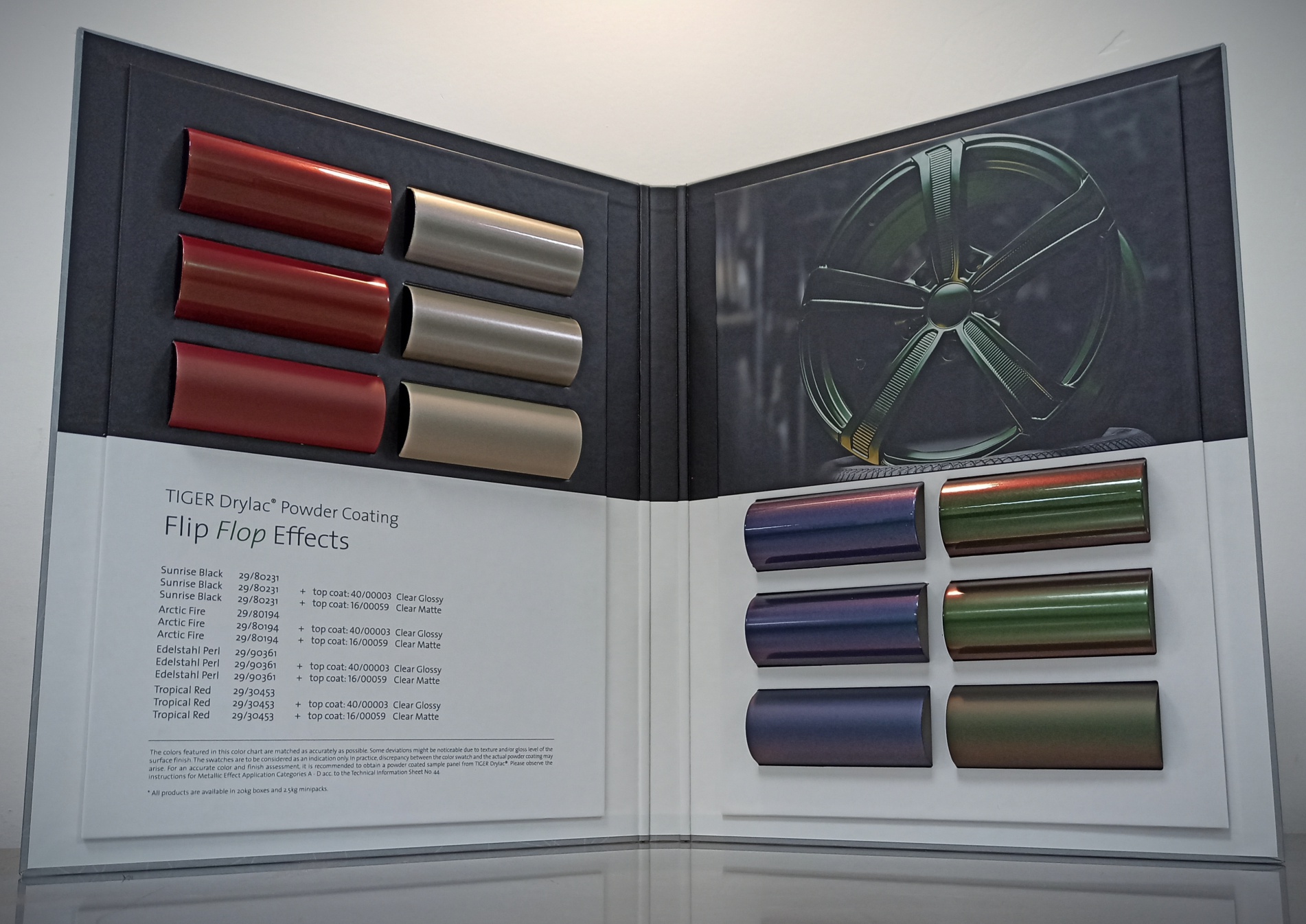 TIGER Coatings releases the vibrant Flip Flop special effects folder
Thursday, 19 November 2020
Technical News
The new Flip Flop special effect Folder 12 from TIGER Coatings is officially here – showcasing a stunning selection of powder coating 'chameleon' hues.
The surface finishing of a product costs a fraction of its total price; however, it's a major differentiation point that wins the heart of the customer. TIGER Coatings strongly recognizes this value and is dedicated to product innovation in order to keep its global leadership in special effect powder coating finishes.
The company also recognizes the specialized application needs of different industries. This is why it has a strong focus in the development of products specifically dedicated to various market segments, or as they describe them ATGs – application target groups. Part of this focus is the creation of special color selections and customized sample kits which specifically cater the needs of different ATGs.
Product of this dedication is the new Flip Flop Folder 12 – a sample kit designed to meet and exceed the surface finishing needs of the growing Automotive customization industry, as well as the trend demands of the Sports & Leisure audience.
Cover
Color Selection
Inside details
Inside details
What features make the new Folder 12 really stand out?
Design featuring round surface real metal samples which provide a great visual representation of how the color reacts to light from different angles; thus, emphasizing the richness of the color and its special flip-flop effects.
Architectural grade polyester-based TIGER Drylac® Series 29 base coats – providing amazing visual appeal and high technical characteristics, including certified UV resistance.
Combination of matte or gloss clear coats which provide additional richness and depth to the colors.
Further, as you would expect from any TIGER Drylac powder coating products, you get:
Easy application – minimal equipment influence;
Considerable reduction of rework;
Unparalleled batch consistency.
Contact your local TIGER representative to learn more about the stunning Flip Flop effects.
Stay in the loop for more exciting product innovations and releases from our partners!

Gallery: Cover, Inside Details, Colr Selections