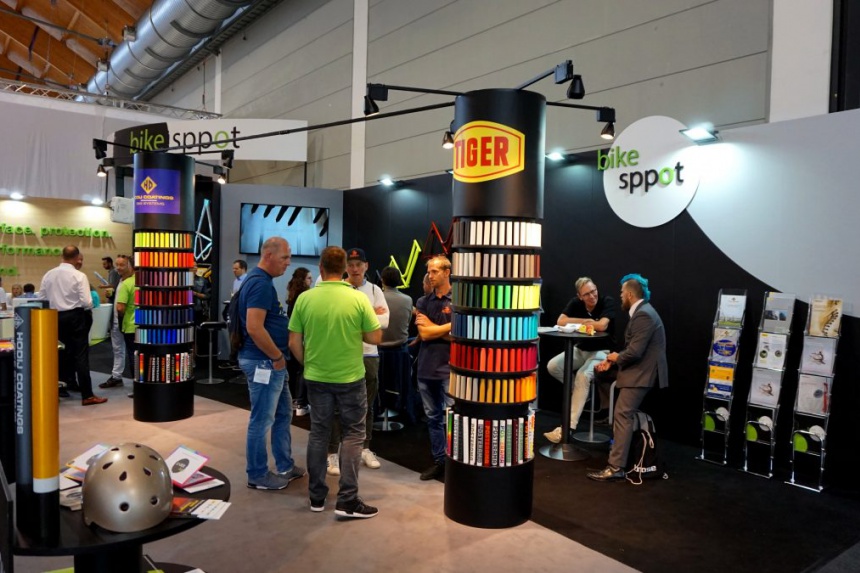 the sppot @ EUROBIKE 2019 – another year and another great show
Tuesday, 24 September 2019
Company news
People say that 'three's a charm' and for the sppot, indeed, EUROBIKE 2019 was a charm! Our goal was to build on the past success we have had at the show and we gladly did so. We had an awesome new stand, a lot of visitor attention, many positive meetings, and all round great atmosphere.
Read on to get the full story.
This year Eurobike was held from the 4th till the 7th of September in its traditional venue – Messe Friedrichshafen, Germany. Being amongst the biggest innovation-driven mobility trade fairs in the world; every year the show gathers leading companies, start-ups, and industry professionals that showcase new products, exchange experience, develop networks and shape the future trends of cycling and smart mobility. This year, Eurobike gathered more than 1,400 exhibitors and 60,000 international visitors from the trade and the general public.
For a young and ambitious enterprise such as the sppot the participation in this event is a major highlight in our calendar; and being our third year in the show, we came with more experience, better preparation and firm determination to build onto the past success we have had. To achieve this we changed the location and size of our booth; evolved its design and added new features that enhanced our already sophisticated image. We also came loaded with innovations, new product releases and clever technology from each of our platform partners.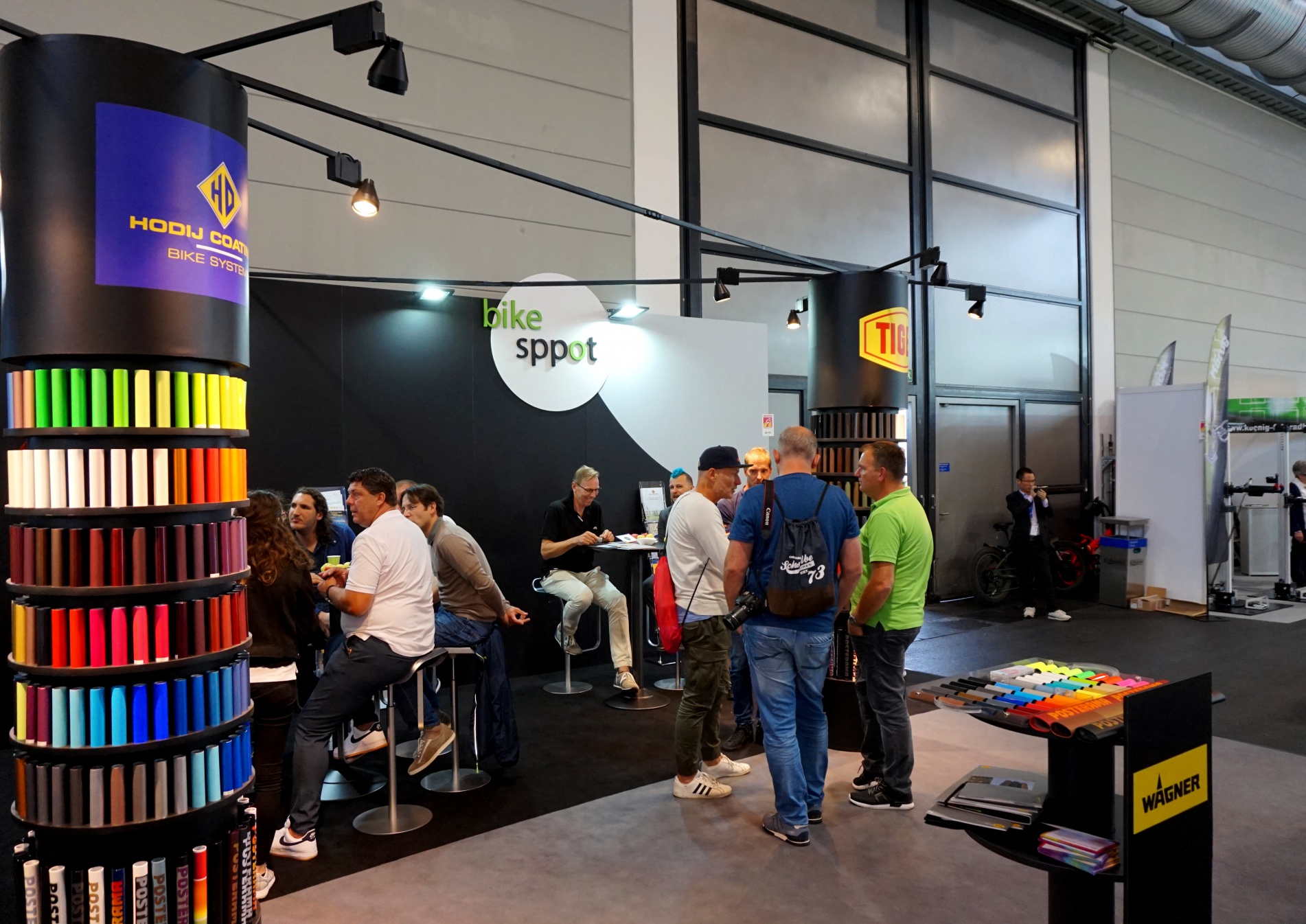 Meeting sessions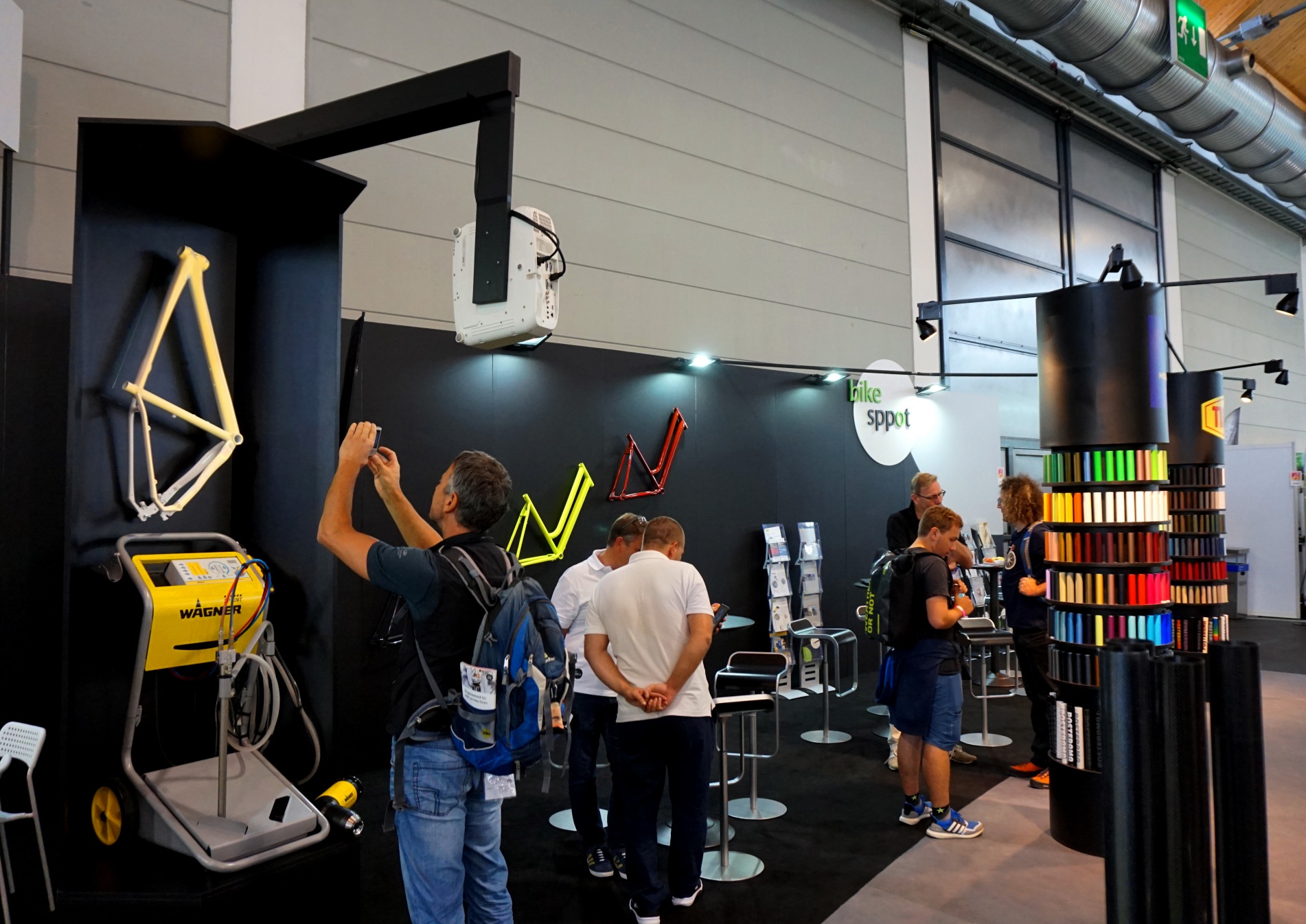 The 3D mapping was a definite attention grabber
Here are some of the highlights:
TIGER Coatings – the specialists in powder surface finishing presented their latest collection of 24 velvety single-coat Flat Matte finishes. The new selection comes to strengthen TIGER's already strong portfolio of single layer effects which apart from unparalleled aesthetic appeal, provides considerable advantages in terms of durability, efficiency, user-friendliness, and stability. Another great highlight is the updated Bike Kit 52 which showcases a stunning selection of 52 powder coating colors and effects specifically chosen for the bicycle industry. The new kit features an updated color selection which presents TIGER's bestsellers in the European bike market combined with its new trending nuances and hues. Speaking of trending colors, during the show TIGER depicted its Color Trends '20-21 which got a lot of attention and positive feedback from visitors. Color Trends is a special selection of the future 'hot' colors in the bicycle industry. This is one of our major campaigns for the year which aims to enhance the color selection process of bicycle producers in their effort to release trendy and appealing product line ups.
Posterama – decal experts – highlighted its 3D decals, along with numerous other stunning decal effects. The 3D decals achieve the same multidimensional optical effect as hydro-forming, however, at a much lower cost. To highlight the attributes and compatibility of our technologies we combined Posterama's 3D decals with TIGER's 3D metallics and latest Flat-matte products; thus, presenting a visually appealing, yet efficient single-layer surface finishing solution.
WAGNER – the experts in application technology – exhibited their latest unit for manual application as well various handguns for both liquid and powder coatings. One also very valuable exhibit was the TOPFINISH Robot Bell 1 – high-speed rotation atomizer, ideal for automated electrostatic applications with water and solvent-based coatings.
One of the big success stories for us at the show was the inclusion of one of our strategic platform sponsors as co-exhibitors. Namely, the Bulgarian company Cycle Gets – one of the first and very few alloy frame manufacturers in Europe, which will solve major problems for bike producers by providing close-to -market production, increased speed (8-12 weeks lead time) and added scale flexibility. Their participation in the fair drew a lot of positive attention and strengthened the position of the sppot as complete solution provider and an ecosystem not only for surface finishing, but also for bicycle production.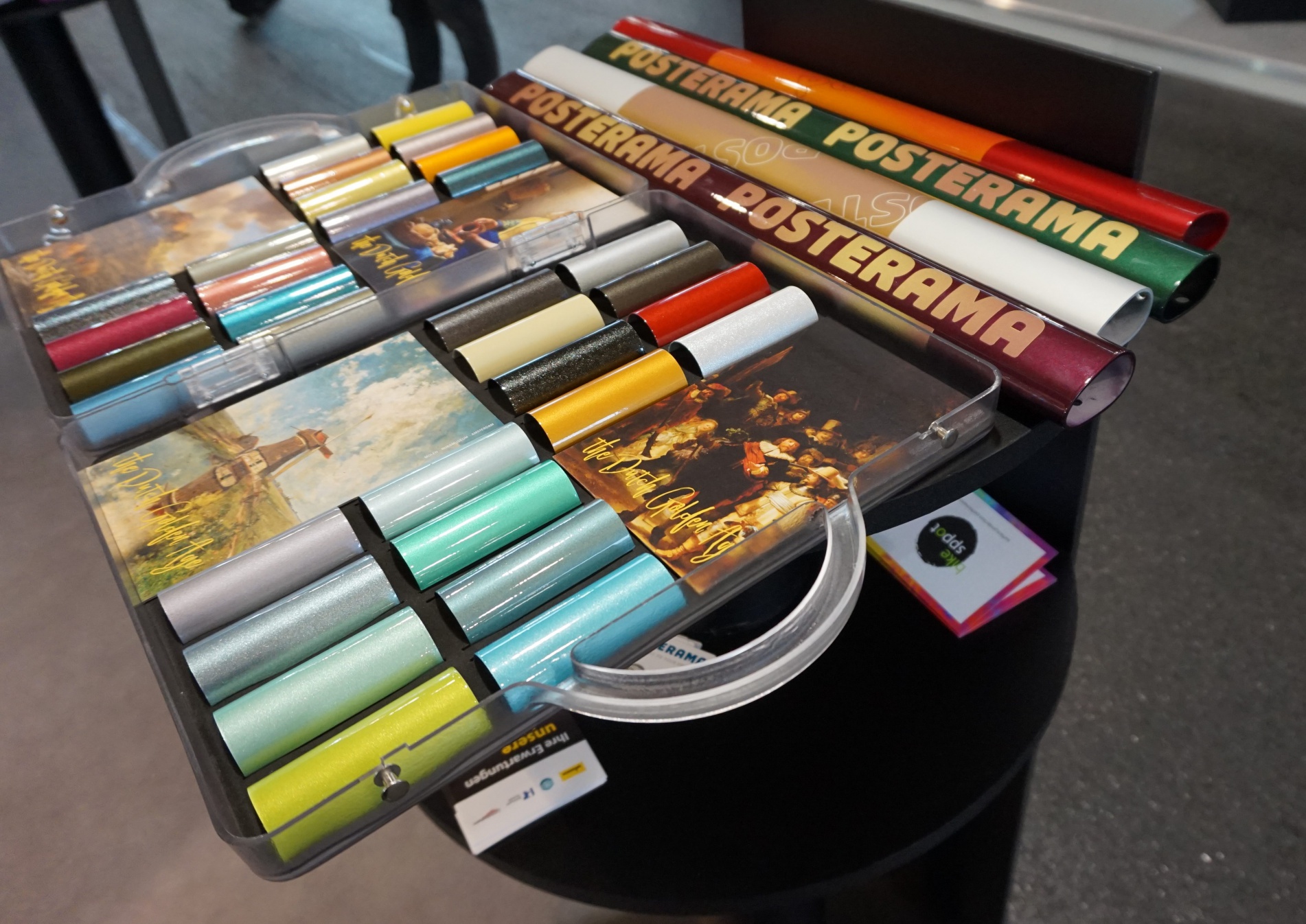 Color Trends – The Dutch Golden Age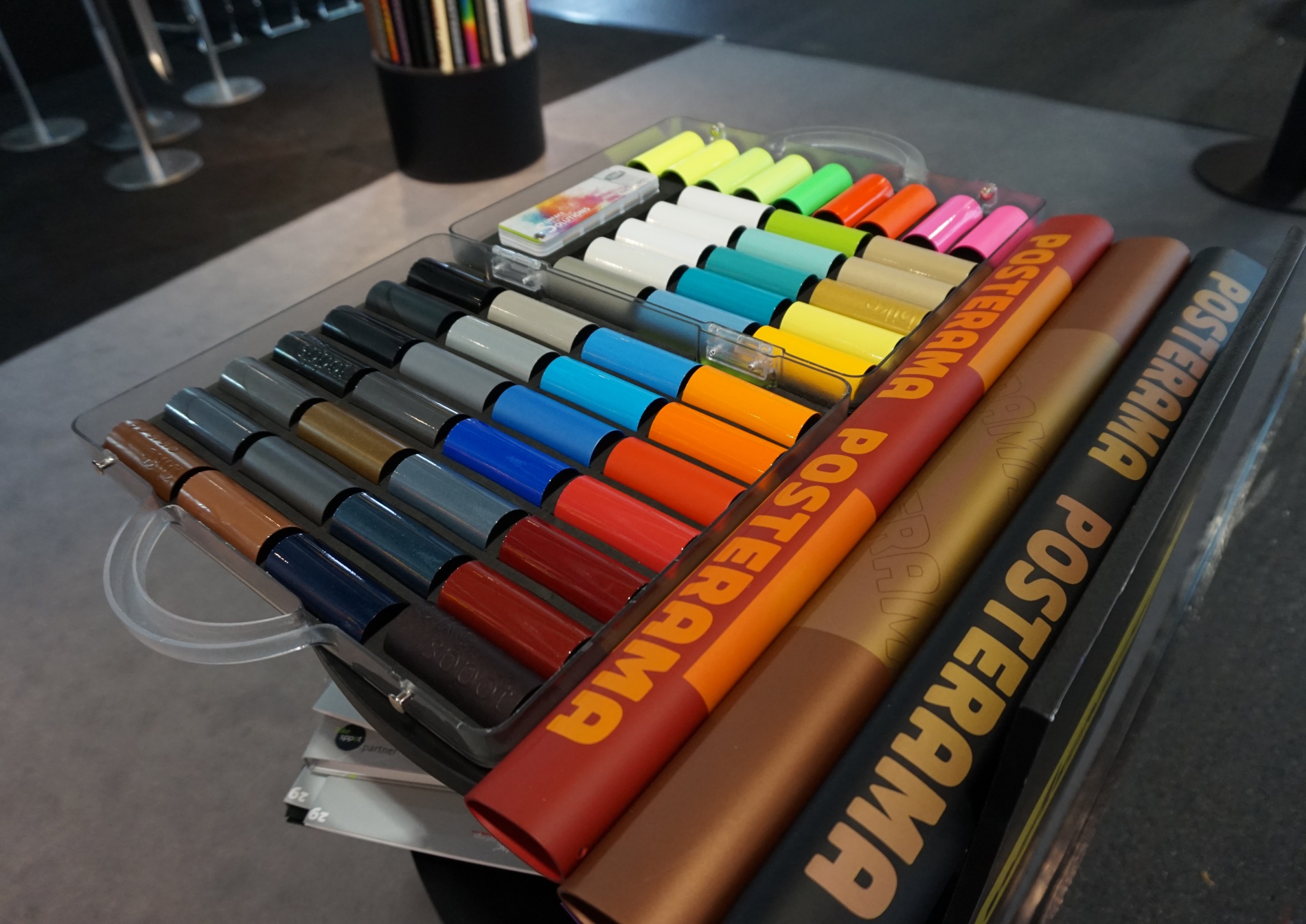 Bike Kit 52 – color selection dedicated to the bike market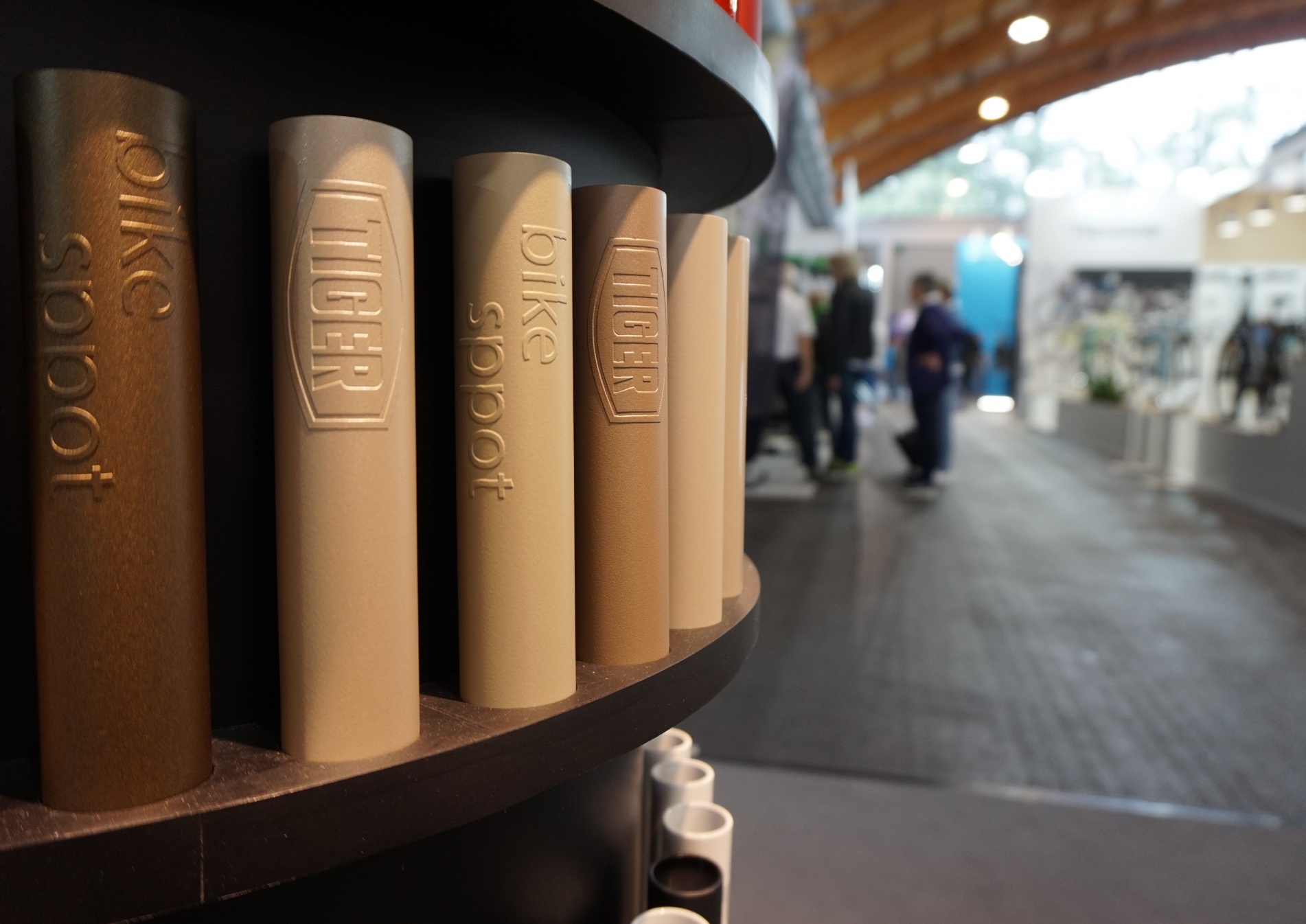 3D decal + 3D Metellic



TOPFINISH Robot Bell 1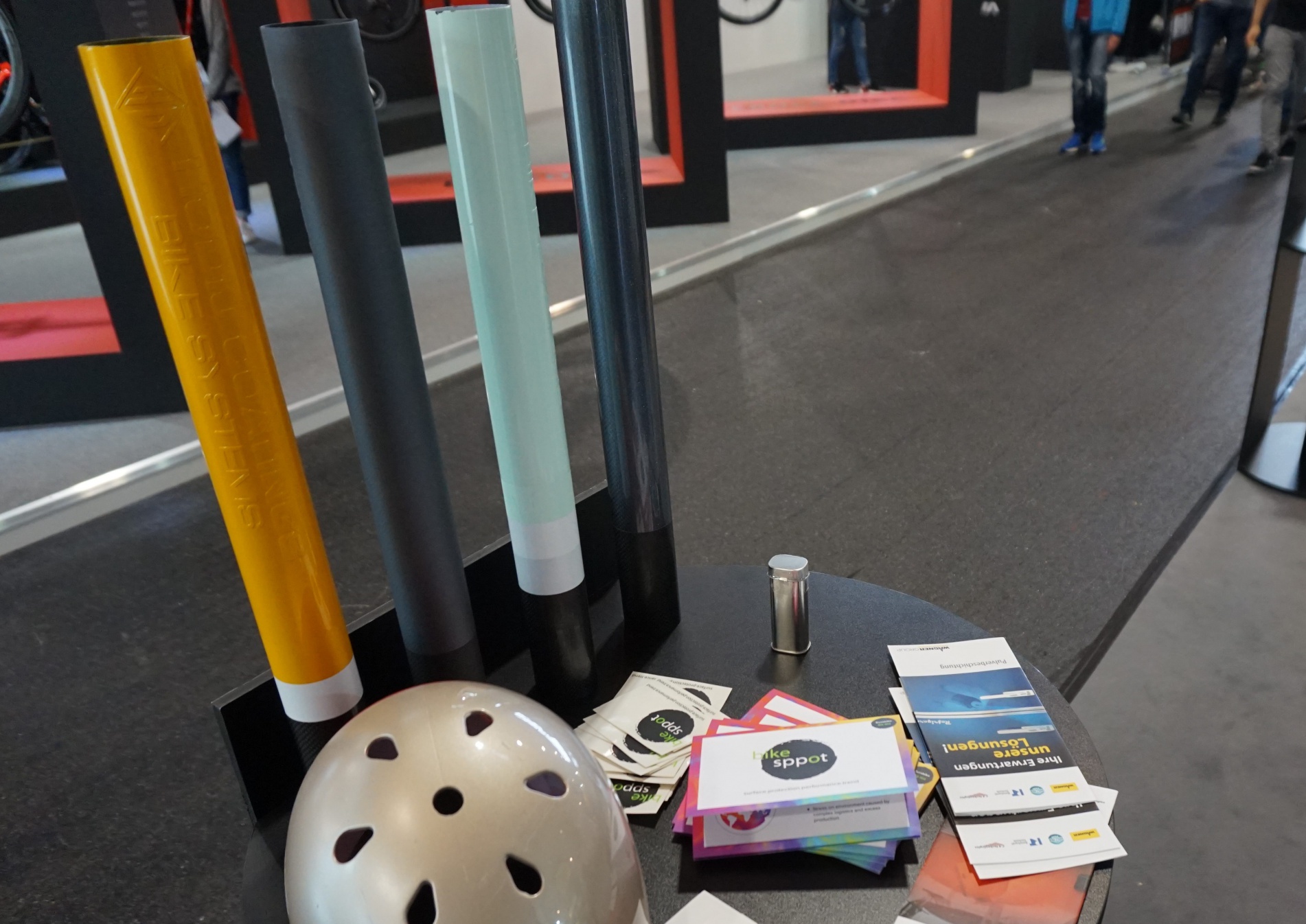 Carbon Bike System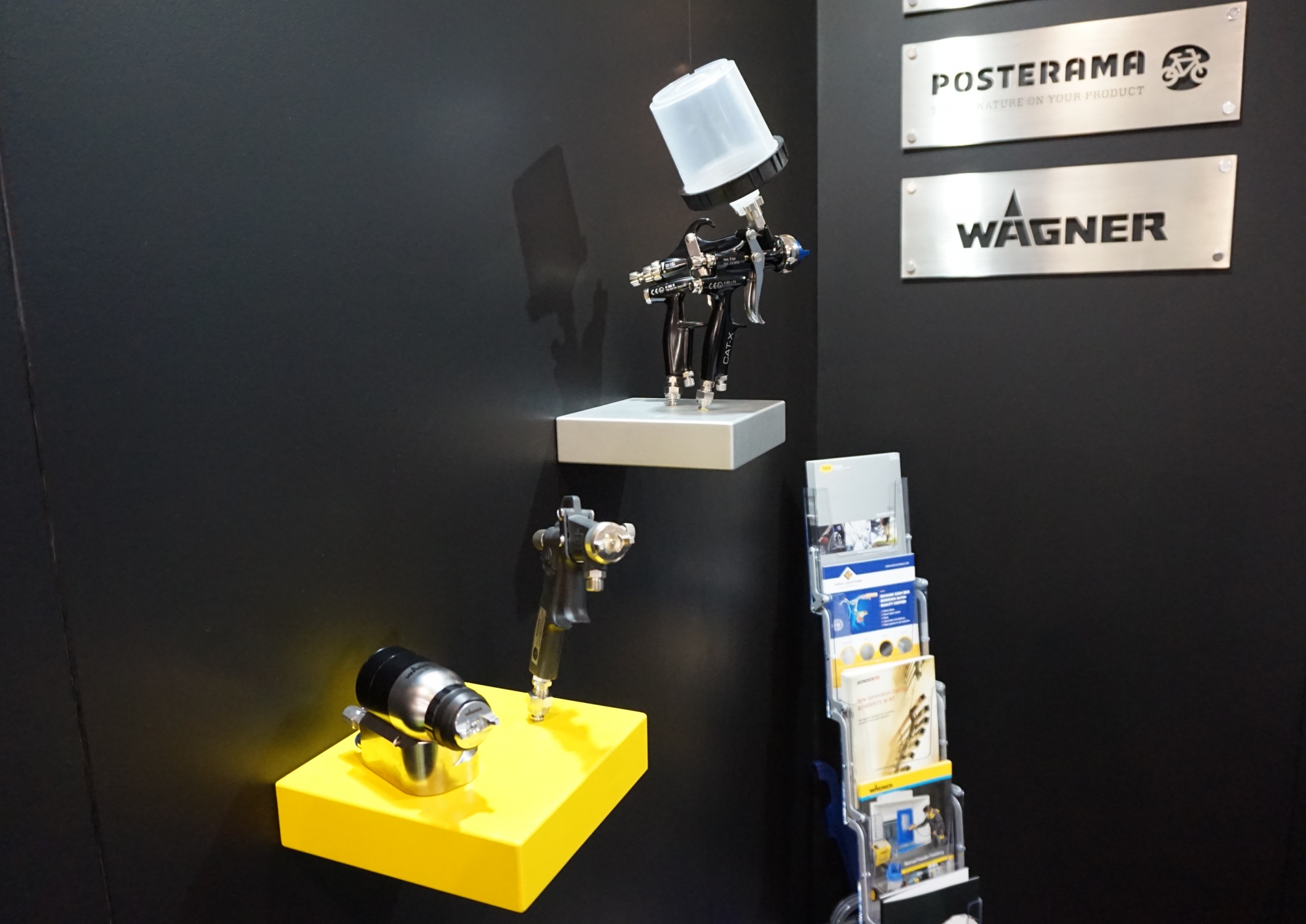 Manual coating hand guns
Apart from the technologies and product releases a major highlight was the improved booth location, size and evolved design. The major theme of the design is to represent our colorful showroom in Sofia, Bulgaria, focused on two main pillars full of coated tube samples which grab the attention of the visitors from afar. Another part of the booth's dynamic is a 3D mapping installation which visualizes coating of a bicycle frame in a very attractive and colorful way. This project is another eye catcher which stole the show yet again, getting the attention of all visitors.
Looking back at Eurobike 2019 we see a great success. During the four days of the show we met many great people, exchanged valuable knowledge, and found new business opportunities. Looking ahead, we see a bright future with exciting new challenges and a brighter vision to create a platform which truly unites technologies and provides solutions from a product concept to reality.
See you next year!