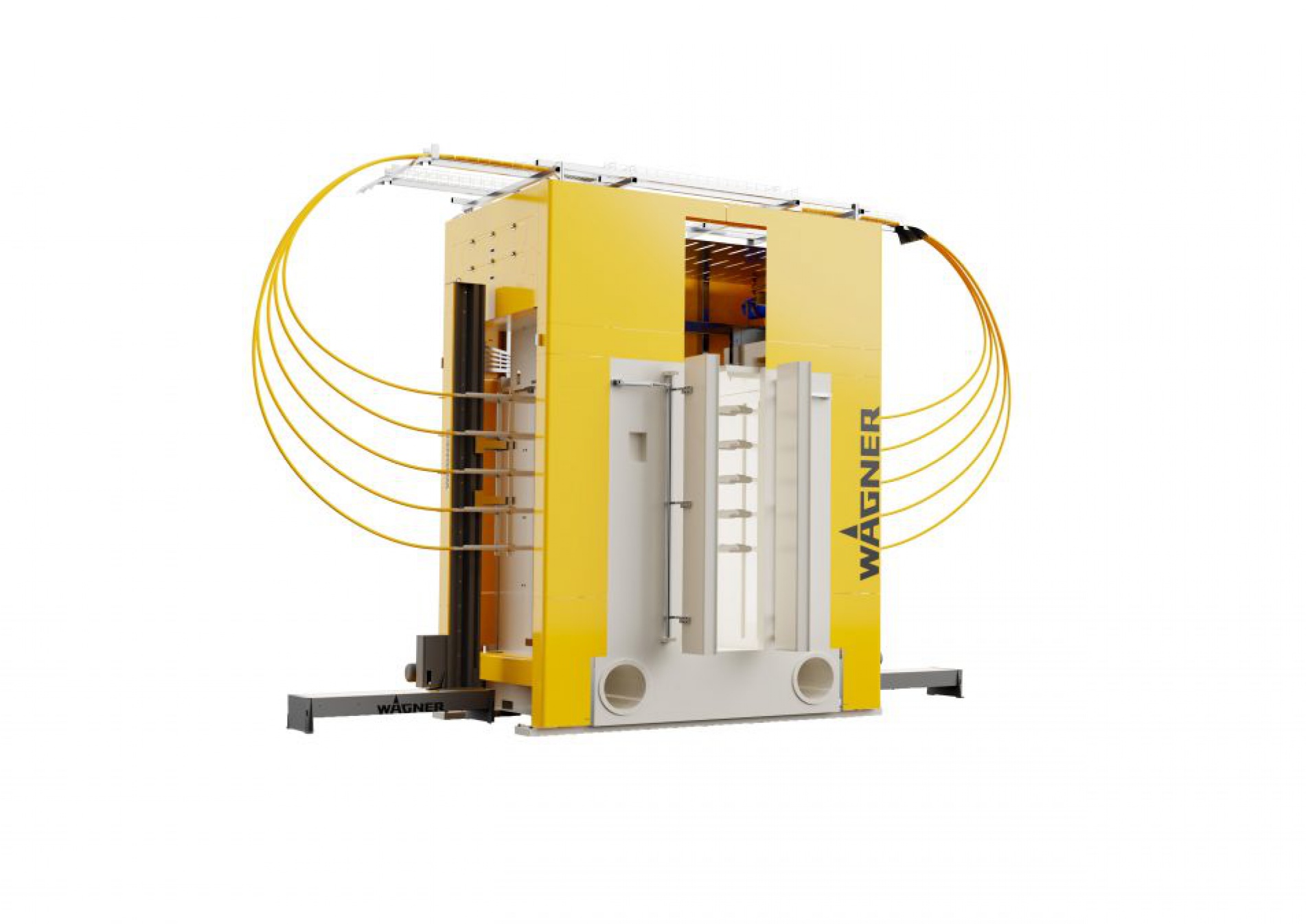 Greater process stability with WAGNER S-Cube CleanAssist
Friday, 12 January 2018
Company news
The new WAGNER S-Cube CleanAssist powder coating booth combines rapid color changes with automated cleaning of the booth for simple operation and a high-quality coating result from start to finish.
With the new S-Cube CleanAssist powder coating booth, WAGNER has, for the first time ever, successfully reduced the time needed to change colors to five to six minutes, 24 hours a day, seven days a week and on every shift, thanks to automated booth cleaning. This means that the powder coating booth not only saves three to four minutes on each color change compared to previous solutions, but it also increases process stability. "We were also able to optimize the color change process in collaboration with one of our clients. This resulted in production cost savings of 10% per year as well as boosting productivity by 20%", explains Lucas Stöckel, Product Manager at WAGNER Industrial Solutions.
This sophisticated powder coating system enables a consistently high level of coating quality while increasing productivity. This system utilizes the patented Energy Efficiency Package (EEP) powder recovery system that minimizes powder loss, thus optimizing material usage. The S-Cube CleanAssist is sold as a complete coating system package
Automated cleaning for coating results with consistent quality
Manual cleaning steps at the powder center are done in parallel with the enhanced automated booth cleaning operations. This achieves not only an optimized color change time, but also improved cleaning. The automation of this cleaning step also makes the cleaning sequence much easier for users, allowing consistent, rapid, high-quality color changes to maximize productivity.
Unlike the central extraction system that is commonly found in the market, the S-Cube CleanAssist uses a twin-tube extraction system that pulls air from the lower corners of the booth and provides a still air zone in the middle of the booth where the powder is applied to the workpiece. As a result, the workpiece is coated evenly. This system also reduces the risk of the powder being sprayed in the lower part of the booth from being aspirated before it can be applied to the workpiece. Thus, this twin-tube technology helps to avoid excessive powder use, which is needed with a conventional, single-slot extraction technology pulling from the middle of the booth to compensate for the aspirated powder. This also avoids increased wear of the lower automatic guns and, therefore, reduces maintenance costs.
Fewer powder deposits and high flexibility
To help ensure minimal powder loss, the S-Cube CleanAssist is equipped with the tried-and-tested EEP recovery system. Powder is recycled via ductwork featuring a rectangular cross-section. This patented solution prevents a vortex from occurring the duct bends. The airflow follows the lines of the duct, counteracting pressure loss and supporting the cleaning process
The S-Cube CleanAssist can be used to coat a wide variety of common workpieces. The quick-change powder booth can process workpieces up to a size of 2400 x 700 mm (94 ½" X 27 ½") and can reliably coat even complex shapes such as aluminum profiles or metal tools. The new powder coating booth can be combined with different WAGNER components (PXS or SuperCenter powder center, monocyclone).
From left to right: WAGNER S-Cube CleanAssist, powder center (PXS or SuperCenter), monocyclone, filter.
About WAGNER:
WAGNER is a leading manufacturer of high-tech components and systems for the surface application of wet and powder coatings as well as paints and other liquid media. WAGNER surface finishing systems are used both in the industrial sector, by artisans and DIY enthusiasts.
WAGNER boasts a full range of products and technology, from material feeders through mixing, dosing, movement and control systems. Completing the product portfolio are booth and recovery systems for powder coating as well as gluing and marking systems.
The WAGNER Group has a global presence, with a workforce of approx. 1,500 people, 17 operative companies, and around 300 WAGNER agencies worldwide. The WAGNER Group is owned by the Josef-WAGNER Foundations, which, in addition to supporting the group of companies, pursue exclusively non-profit, charitable aims.
For more information, visit www.wagner-group.com