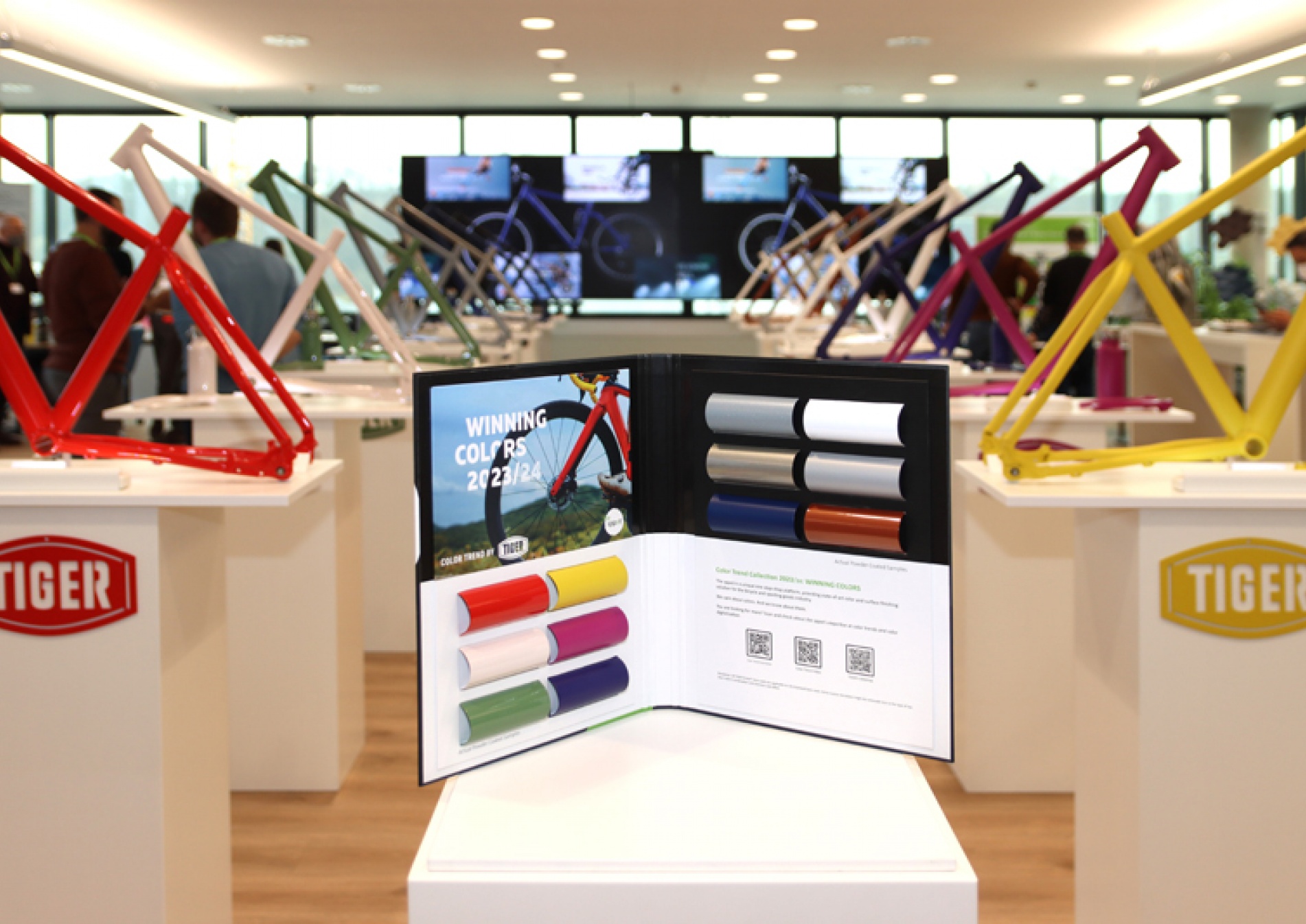 Color Trend Days @ TIGER, April 2022
Thursday, 28 April 2022
Company news
Three days dedicated to surface finishing solutions: pre-treatment, powder & liquid coatings, application systems and decals.

Color Trends is our annual spring campaign, but for the first year it was a three-day live event. It was an exciting adventure where we welcomed more than 250 visitors at the TIGER's premises in Wels, Austria.
For the last five years TIGER Coatings and the sppot are aiming to be trend-setters in colors and innovation. This spring we decided to be even braver and to have a live event, despite the COVID-19 limitations that have shaped our lives for more than two years. We were eager to meet our partners, colleagues and customers in person again. And it's worth it. Color Trend Days were three days full of colors, innovations and networking. It was highly satisfying to meet more than 250 visitors from more than 50 companies in sporting goods, architecture, automotive and other industries from all around Europe.
At TIGER's premises in Wels, Austria we gathered in one place many experts who presented to the visitors the latest trends in surface finishing technologies. For three days there were open desks to discuss all news and innovations of TIGER Coatings, WAGNER, Henkel, Posterama, Berlac Coatings, Cycle Gets and M8. We were thrilled to talk over various important topics with our guests such as sustainability of products, innovation and digitalization of services.
The main focus of the event was the Color Trends collection of 12 colors.Our guests had the chance to see their application on bike frames and other goods, with and without top coat. TIGER Coatings presented their latest marketing gadget: Magic Box of colors. Posterama's decals have introduced their innovation on long-lasting shelf life decals. Cycle Gets presented their frames' design and production opportunities. Berlac were there with their latest color collection of liquid coatings. Henkel were able to promote their pre-treatment solutions specifically designed for the sporting goods industry. And of course, WAGNER were there with their innovation in the applicationsystem.
One of the favorite stations of our guests appeared to be TIGER's sustainable desk, where they received a full pack of information about TIGER's green approach in production of powder coatings. The most discussed topic of the event appeared to be powder application on carbon – innovation that the sporting industry expects eagerly. Digital coat selection is already possible and TIGER made a real-time demonstration of this digital approach.
Color Trends Days was planned to be impressive, but we got much more than that. It was a journey of personal meetings and discussions on high professional ground. We received very positive feedback on-site and after the event.
Thanks to all guests and colleagues who made this adventure real. We aim to come back again next year with even bigger and more colorful surprises.